Application Guide Without Service Fee Guide you how to apply for studying in Shandong University of Traditional Chinese Medicine & Study in sdutcm
How to Apply
Application Period
Application period from 1st,March to 15th,June.
Application Documents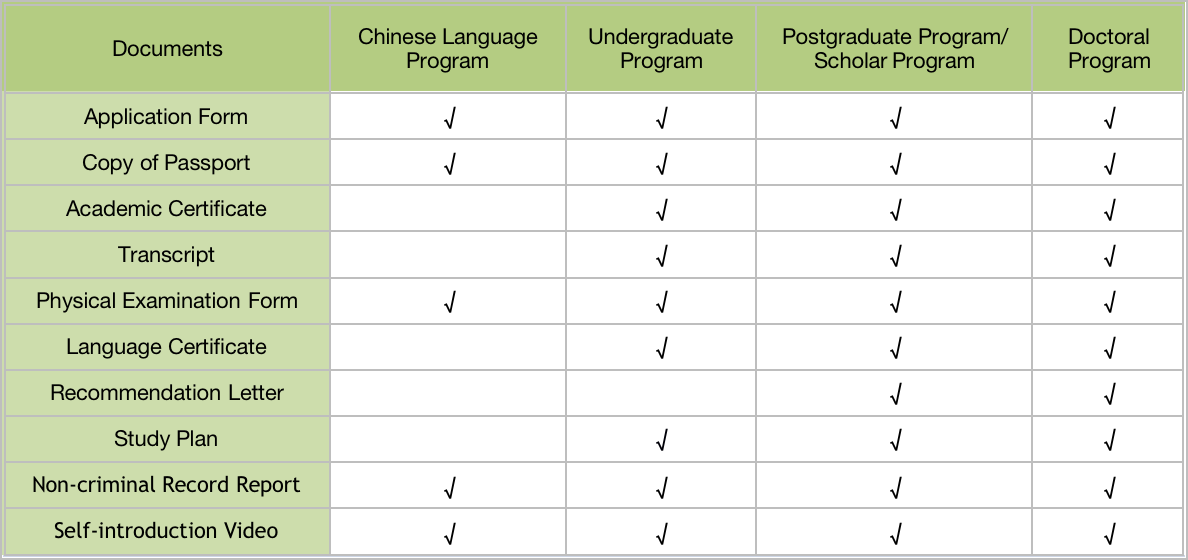 Requirement of Application Documents:
1. Color-scanned passport information page and visa pages, they should be clear and complete.
2. Name must be the same as that in the passport. Abbreviations or omissions of the middle name are not allowed. If there is no family name or first name, please leave a blank (e.g. '-' or '.').
3. Applicants already in China must submit color scanned visa within the validity period and the latest entry stamp.
4. Registration photo. All applicants are requested to submit a colored two-inch bareheaded registration photo on the system, with a white background and without rim, size 100-500KB, JPG format.
5. Applicants under the age of 18 must submit valid documents of legal guardians, such as ID card, Bank statement and letter of guardianship. (Eitheroneis acceptable)
6. Applicants must fill in all the study and work experiences from high school so far without time gap. (If applicants have military service, please list the period of it)
7. The applicant shall submit either scanned diploma or certificate of the highest degree. If the degree certificate is not acquired yet, the previously acquired academic certificate shall be submitted. (Other documents are not acceptable).If the diploma or degree certificate has not be obtained, it will not be admitted.If the academic certificate or graduation certificate is non-English or Chinese, the original shall be attached with notarized Chinese or English translations.
8. The applicant shall fill in the highest level of education experience.
9. Academic transcripts:transcripts in languages other than Chinese or English shall be attached with original transcripts and notarized Chinese or English translations.
10. Applicants must submit Foreigner Physical Examination Form (photocopy) written in English. The physical examinations must cover all of the items listed in the form. Incomplete forms or forms without the signature of the attending physician, or the official stamp of the hospital, or a sealed photograph of the applicant are considered as invalid. Please carefully plan your physical examination schedule as the result is valid for only 6 months.
11. Language requirements: Undergraduates should submit HSK4 Certificate; Postgraduate students and doctoral students should submit HSK5 Certificate.
12. Recommendation letters (written in Chinese or English). Applicants for the graduate programs, scholar programs must submit two recommendation letters signed by relevant professors.
13. A study plan or research proposal (written in Chinese or English), which requires a minimum of 1500 words for scholars and postgraduate students, 2500 words for doctoral students.
14.Non-criminal record report. The applicant shall submit a valid certificate of Non-Criminal Record issued by the local public security authority, usually issued within 6 months prior to the submission date of the application.
15. Other documents, such as published papers, award certificates, work or internship certificates, can also be submitted in the form of attachments.
16. Self-introduction video. Contents include: (1) Self-introduction; (2) Understanding of China; (3) Understanding of major; (4) Study plan in China. Formats: AVI, Move, MP4. The file should be within 50Mb and less than 120 seconds in length according to the teaching language of the applied major.
Note:
1. All materials uploaded through the system must be clear, true and valid. It is recommended that the applicant use professional equipment to scan the relevant documents. The applicant shall bear the consequences caused by unclear or unidentifiable materials uploaded;
2. SDUTCM does Not accept any hard-copy application documents;
3. Please bring the originals of all the above-mentioned documents when registering.Those who provide a prospective diploma certificate must bring the original official graduation certificate for verification;
4. Please contact SDUTCM directly, SDUTCM DOES NOT entrust any individual or agent for enrollment.
Application Procedure
1. Applying online:
(1)Register and apply online:
(2) Complete the information, upload all the required documents and submit your application.
2. Qualification Verification:
Login your online application account to check your application status.
3. Entrance Test and Interview
Applicants who pass the preview shall take the Entrance Test and the Interview, the admission decision will base on a comprehensive evaluation.
4. Admission Notice:
Applicants can check their admission results in the application system. After getting accepted, we will mail you the Admission Notice and Form of Visa Application as soon as possible. Please check email regularly and make sure your postal address is correct